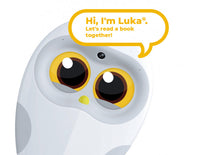 Luka®: The Reading Companion for Kids.
Meet Luka®, a reading robot companion for kids. Luka® recognizes and reads over 20,000 English picture books, and over 70,000 Chinese titles. And new books are being added to its cloud library every day. Luka® engages and supports your children to read independently, whenever, wherever.
Shop Luka® now.
Watch this video to find out how Luka® works.
Luka® is amazing.
Luka® reads tens of thousands of English and Chinese picture books. Books that you already own, without the need to buy specific books.

Luka® is so easy to use.
Luka® recognizes a book from its cover and starts reading it aloud at the flip of a page.
Luka® always has time.
Luka® is of course, no substitute to your reading time together. But he's always there to encourage your children to read when you are busy with work and other chores.
Luka® is engaging.
Luka® reads out loud with a natural human voice. 
Luka® is versatile.
Luka® is able to play many pre-recorded audio books using the Luka® App. You can even record a book in your own voice and Luka® will read it out loud.

Luka® is always upgrading.
Luka® is constantly improving its functions, and adding new books to his cloud library every day.

Reading with Luka® empowers children with better vocabularies and communication skills, in both English and Chinese. 
Reading stories aloud broadens children's imagination and instills creativity.

Luka® reads aloud to children and gives them a clear starting advantage when they're learning to read.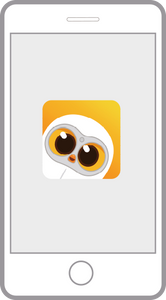 1. Download the Luka® App
1. Download the Luka® App from the App Store or Play Store and register.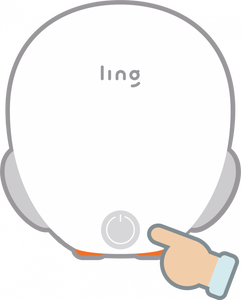 2. Activate Luka®
Press and hold the tail for 4 seconds to turn  Luka® on/off.
3. Open the Luka® App to pair with Luka®
Generate QR code within  Luka® App and place it in front of  Luka® to connect.
4. Press Luka®'s right wing to start reading
That's it! Now you can start reading aloud picture books with Luka®.
5. Press Luka®'s left wing to play audio contents
 Luka® can play songs and lullabies, and read audio books. Double click to play next. Press the beak to stop playing. 
6. Push contents to Luka® from App
Choose stories and songs from the App, and push to Luka® to play. In the Parrot Mode section of the App, choose a default message or type in any words, and Luka® will say it out for you.